Skip to Main Content
It looks like you're using Internet Explorer 11 or older. This website works best with modern browsers such as the latest versions of Chrome, Firefox, Safari, and Edge. If you continue with this browser, you may see unexpected results.
Chromebook Computer Lending
Fairfax County Public Library is pleased to offer Chromebook computers for borrowing by the public.
These Chromebooks can be checked out by customers 18 and older from the following branches:
Borrowing Details
Includes Chromebook, power cable and bag.
14 day loan. Cannot be renewed. Checkout to adults only (ages 18+).
Return to the same library branch where you borrowed the Chromebook.
Personal Data
Chromebooks are reset by library staff upon return and all personal data (logons, profiles, websites visited, documents, etc.) are erased.
Quick Facts
Internet access/Wi-Fi is required to use the Google suite of tools. Internet access/Wi-Fi is not included with this laptop.
Chromebooks support the Google suite of productivity tools, including Docs, Sheets and Slides. These tools can access Microsoft office files, including Word, Excel and PowerPoint.
You can browse as a guest or use a Gmail account.
If you browse as a guest be aware that your documents and history will be immediately removed when the Chromebook sleeps, restarts or shuts down.
Chromebook, cable and bag will be sanitized between borrowers.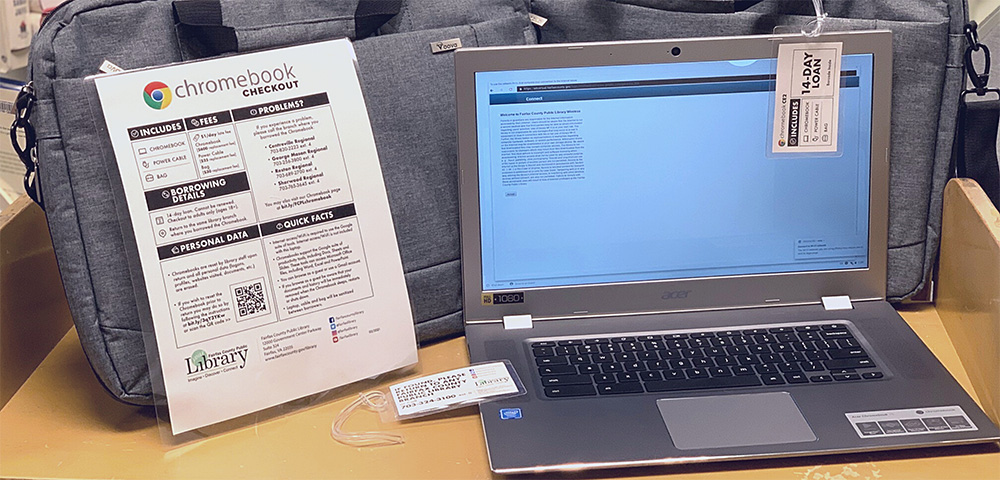 Late/Replacement Fees
$1/day late fee
Chromebook ($600 replacement fee)
Power cable ($25 replacement fee)
Bag ($30 replacement fee)
Problems?
If you experience a problem, please call the branch where you borrowed the Chromebook:
Centreville Regional: 703-830-2223 ext. 4
City of Fairfax Regional Library: 703-293-6227 ext. 4
George Mason Regional: 703-256-3800 ext. 4
Reston Regional: 703-689-2700 ext. 4
Sherwood Regional: 703-765-3645 ext. 4
If found, please return to any Fairfax County Public Library branch or call 703-324-3100 ext. 0